Ever dream of swimming with turtles, octopus and colorful tropical fish?
Wouldn't you rather be inside the aquarium?
June is the "Learn to Dive" month at SCUBA Network® and we have partnered with the Marriott hotel of North Fort Lauderdale to offer you the diving experience of a lifetime at a price you can't resist.
Over the course of 3 days, prospective Scuba divers will complete pool and open water training, explore the wrecks and reefs just off shore and return home as a fully certified SCUBA diver!
IN 2 EASY STEPS!
STEP 1
Purchase an online academic student kit to be completed at your own pace in the comfort of your own home.
$99
ADD A PARTNER FOR $79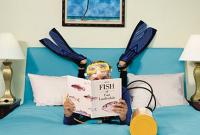 STEP 2
Come to sunny Florida to complete the required pool and ocean dives. Don't forget the sunscreen!
Just $199*
ADD A PARTNER FOR $149
HEY! WHY NOT ADD A HOTEL!
-Room rates are only $79 per night plus sales and hotel tax.
-Book 3 consecutive nights and get your 4th night free!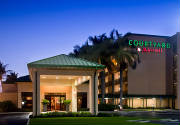 To celebrate the completion of your class, all students will receive a free graduation dive on one of the many beautiful reefs that south Florida has to offer!

REQUIREMENTS
Students must:
 Be 10 years or older.
 Have basic swimming skills.
 Complete the Online program prior to arrival.
 Fill out an agreement, a release of liability and a medical questionnaire prior to arrival

COURSE DETAILS
Group price of $199 includes pool training, 4 beach dives, use of all needed equipment and the SCUBA Diving International (SDI) lifetime, internationally recognized certification card.
Custom and semi private classes are also available and start at $299.
*Above prices contingent on hotel booking. Please add a $50 pool fee if supplying your own accomodations.
HOTEL DETAILS
Availability of $79 per room per night rate will be confirmed at time of booking. Advance booking required. 3 nights minimum stay to qualify for the 4th night free. Rates are per room, per night. Maximum 2 guests per room. Taxes, resort fees, and incidental charges are additional. Additional restrictions may apply.
Rate Rules
Rates do not include an 11% Florida sales/hotel tax.
Holding Your Reservation
We will need a credit card number to reserve your room.
Canceling Your Reservation
You may cancel your reservation without penalty 24 hours in advance of check-in, otherwise, a cancellation fee equal to 1 night of your room charge plus tax (for the first night of your reservation) will be charged.
CALL US TO START YOUR ADVENTURE!
954-491-7793